Robert's Biography
Epiphany of a Young Artist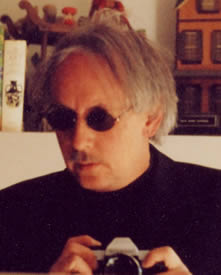 Robert Sears was born in Springfield, Massachusetts in 1951 and spent his formative years in New York. Although he had no formal training in Art, he was encouraged by his grandfather - a member of the New York Art Students League - to cultivate his artistic potential and to take advantage of the many museums and galleries that the city had to offer. "When I was a young boy, my grandparents took me to see the Mona Lisa in New York when it was on tour back in the sixties. We stood in line in the freezing cold and snow, and I don't remember being impressed by the painting so much as I was by the sense I got of the importance of Art and the respect paid to it by so many people."
Robert spent time in large cosmopolitan centers like New York, Montreal, and Vancouver before moving to his present studio in the Gulf Islands of British Columbia. Since 1971 his paintings have been purchased by private and corporate collectors in the U.S., Canada, and abroad.
A Symbiosis Of Cultures
"While growing up I never thought seriously of becoming an artist, but in hindsight I had been preparing for it all along. Living in the Pacific Northwest has greatly influenced me as an artist. In the scenes I paint, I attempt to express my inner vision against the backdrop of this strange and unique part of the world. The isolation of living on an island immersed in nature has led me to an "Eastern Sensibility" in the way I live my life. The similarity between this landscape and those of China and Japan has led me to a feeling of affinity with the Japanese realists Hiroshige and Hokusai - that and the fact that they also depicted everyday scenes in their work.
I am concerned with the mystery and melancholy in our everyday lives, and the alienation of the individual in the world of today. Realism in painting is never in style, but it is always with us; and although my work is traditional in that it descends from and pays homage to the great American and Canadian masters, such as Andrew Wyeth, Edward Hopper, and Alex Colville, I feel that the greatest level Art ascends to is when it makes the commonplace seem strange - when it shows the world enchanted. I have also been thus influenced by the work of Joseph Cornell, the photography of Diane Arbus, and recently by the art and writing of Bruno Schultz."
Recapturing the Beauty of Enigma
"The ecstasy with which a child experiences the world, entirely with imagination devoid of names and explanations, is slowly being lost as we accept the explanations of reality imposed by our culture. We seem to spend our lives trying to regain this ecstasy through many different means, when what we are actually trying to recapture is the beauty of the enigma itself."